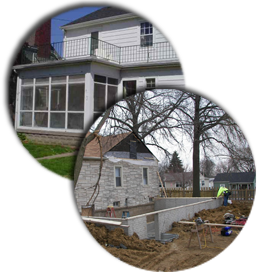 WRS Construction offers room additions and new home construction.   The scale and type of room addition you need is entirely up to you!  WRS works within your budget to expand your home with virtually any type of room you need, whether you need an extra bedroom, a new garage or a whole new family room added on, WRS is the crew for you.
In the market for a new house but can't find what you're looking for?  Then it may be time to bring in one of the best Quad Cities new home construction specialists, WRS Construction!  At WRS we can build houses of any size or budget, no project is too big or too small.  WRS can design your home and take care of all construction from start to finish.  Our goal is to build you new a home that not only meets your needs but surpasses your expectations and captures your vision by making it reality.  With up to date knowledge on the latest trends in building and home design coupled with our 30+ years experience in the construction industry, you know that WRS is the right team to have on your side.
WRS Construction will meet with you face to face and will always make sure the home is built to suit your needs and not ours, we want you to be happy with your home and our service.  WRS will never push you in the direction of something you cannot afford or simply don't like.  We're skilled, experienced and personable, contact us today and learn how the WRS home building experience may be the next positive and memorable chapter of your life.
If you're interested in learning how WRS fits your needs for a new room addition or home construction, please give us a call, we'd love to hear about your plans! Call us today at 563-324-9034 or 
click here to fill out our form
.
DIY
Are you taking on the role of general contractor for your new construction project?  If so, WRS is still here to help! We offer the following services as your sub-contractor
Concrete Pouring, Driveways and Foundations

Roofing
Framing

Interior wall framing
Exterior wall framing
Rebuilds
New construction

Drywall
Painting

Scraping
Sanding
Caulking
Filling