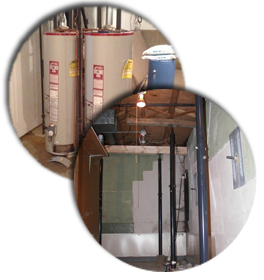 WRS Construction is here for all your plumbing and electrical service needs!  We've got the team of experts waiting to assist your every need.
Plumbing can be a real bear, the risk of doing it yourself can cause your whole house damage if things aren't installed perfectly.  Our team of professionals can take on anything from a plumbing repair to the installation of pipes in new construction.  Here's a quick a list of all our plumbing services.
General plumbing services
Water pipes
Sewer pipes
Gas lines
Drains
Traps
Septic systems
Commercial
Residential
We also provide the sale and installation of
Water heaters
Water softeners
WRS is here for all your electrical needs!  In consistency with all of WRS' service offerings we're here for projects of all sizes from repairing an outlet to running all new wiring and electric panel installation.  Check out this quick list of our services below.
Electrical wiring
Conduit
Data and communication
Electrical boxes
Fuses
Switches
Timers
Transformers
Terminal blocks
Temperature controls
Electrical panels