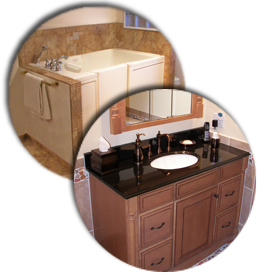 WRS Construction is a leader in Quad Cities bathroom remodeling.   Whether you're looking to just replace a faucet or give your entire bathroom a makeover, WRS is your choice for bathroom remodeling!  With over 30 years design and construction experience under our belt we have the experience, training and expertise to do the job right the first time and in your budget.  We understand that a bathroom remodel can be a daunting task which is why we work with you on each step of the process and always strive for a high-quality finish that  fits in your price range!  We're here to help and make your dreams come true.
We can install and also sell the following items:
Bathtubs & Showers

Toilets
Sinks
Vanities
Medicine Cabinets & Mirrors
Lights and Fans
Faucets
Safety Bars
If you're interested in learning how WRS fits your bathroom remodeling needs, please give us a call, we'd love to hear from you! Call us today at 563-324-9034.
Samples of Our Work